Molten Metal Temperature Indicator with Remote Display And Computer Interface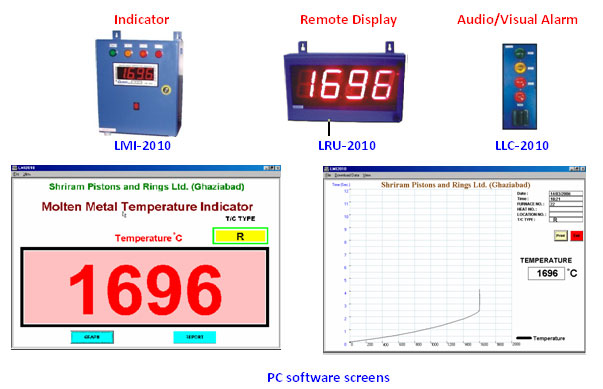 Product Specification :
Model wise descriptions :
| | | |
| --- | --- | --- |
| Model | Products Description | Size (mm.) |
| LMI-2010 | Molten Metal Temperature Indicator | 350 (w) x 400 (h) x 200 (d) |
| LRU-2010 | Large Remote Display Unit | 500(w) x 250(h) x 150(d) |
| LLC-2010 | Lamp and Hooter Compartment | 185(w) x 500(h) x 125(d) |
Description :

Molten metal Temperature Indicator (LMI-2010): Libratherm offers micro controller based Molten Metal Temperature Indicator model LMI-2010, which is designed to measure accurately the temperature of ferrous and non ferrous molten metals. The measurement of this temperature is a critical process, since the expendable thermocouple is dipped for merely 3 to 4 seconds and then withdrawn. In this short measurement time, the operator is guided through the measurement cycle by audio/visual alarms for thermocouple continuity, measurement in progress and measurement over.
Any error in measurement due to thermocouple open condition is immediately detected and informed by activating the audio/visual alarm.
LMI-2010 is indigenously designed to measure and display the molten metal temperature in very short time interval. The indicator is rugged, reliable, field proven and very easy to operate. User can select the desired type of thermocouple and also set other parameters using front panel key board. During measurement, the indicator ignores the slag temperature and the Average or Plateau reading is determined using the advanced algorithm and the same is latched and displayed on the bright 7 segment 2" red Led display. The latched readings are transmitted on two wire RS485 bus for remote display and computer interface.
Large or Remote Display (LRU-2010) : Libratherm also offers micro controller based remote display to be used in association with LMI-2010. The reading available from LMI-2010 on RS485 2 wire bus is captured by this remote display model LRU-2010, which indicates the latched reading on 4" large red 7 segment LED display.
With single LMI-2010, maximum 1 node of computer and 5 LRU-2010 can be connected in serial multi-drop configuration. This display works on 230VAC and can be mounted at a suitable height for distant viewing.
Lamp and Hooter Compartment (LLC-2010): For remote audio/visual indications – Libratherm offers this unit – which can be driven from the potential free contacts available from LMI-2010.
Technical specifications ( LMI - 2010 ) :

Input
K, R, S and B type thermocouple (user selectable through front panel)
Range

Full positive range of the selected input
K type : 0 to 1372 oC , R and S type : 0 to 1768 C

Accuracy

Within +/-0.1% of the range

Resolution
1 oC
Cold Junction Compensation
Automatic using built in sensor from 10oC to 60oC.
Display

4 digit – 2" red seven segment LED display

Measurement Time
2 to 9 seconds (user programmable)
Plateau Detection



1 to 99 oC (user programmable)

LED indication
13 front panel LEDs for various functions
Audio / Visual Alarm Indication

Provided for Thermocouple continuity, Measurement in progress and Measurement Over using the built in lamps and speaker.

Retransmission Current Output
4-20mA proportional to the measured temperature,
RLmax = 400 ohms
Relay Output
Potential free relay changeover contacts for driving remote audio/visual indicator - LLC-2010. Relay contacts are rated for 5A @ 230VAC.
Serial Communication
RS485 – 2 wire for remote display and computer interface
(Using MODBUS RTU protocol)
Supply
110 or 230VAC +/-15%, 50/60 Hz
Enclosure
Dust free - Metallic powder coated.
Size
350 (w) x 400 (h) x 200 (d) mm.
Weight
8.5 Kg (approx)
Mounting
Wall mounting key holes or Can be placed on a flat platform.
Technical specifications ( LRU - 2010 ) :
| | |
| --- | --- |
| Signal Input | 2 wire RS485 serial output from LMI-2010 in MODBUS RTU protocol |
| Display | F4 digit – 4" red seven segment LED display |
| LED indication | 2 front panel LEDs for RXD and TXD |
| Supply | 110 or 230VAC +/-15%, 50/60 Hz |
| Enclosure | Dust free – Metallic powder coated |
| Size | 500(w) x 250(h) x 150(d)mm. |
| Weight | 10.0 Kg (approx) |
| Mounting | Wall mounting key holes or can be placed on a flat platform. |
Technical specifications ( LLC - 2010 ) :
| | |
| --- | --- |
| Contact Inputs | 4 nos. of C-NO potential free contacts from LMI-2010 |
| Audio/Visual Indication. | 4 nos. of 100Watt lamps (Red, Amber and Green colour)  for visual indication of Measurement in Progress, Measurement Over, Thermocouple Continuity and  a Hooter at the END of Measurement. |
| Supply | 110 or 230VAC +/-15%, 50/60 Hz |
| Enclosure | Dust free – Metallic powder coated |
| Size | 185(w) x 500(h) x 125(d)mm. |
| Weight | 10.0 Kg (approx). |
| Mounting | Wall mounting key |